At £350 million, The Grange University Hospital (GUH) is the largest capital project in Wales, a 450 bed specialist and critical care centre. Delivered in exemplary fashion significantly ahead of programme, well within budget, with zero defects, all achieved during the Covid-19 pandemic; it's success has enabled the NHS to save many lives.
Delivered using LOR's integrated delivery model, comprising manufacturing, construction and MEP specialists – thus minimising conflict. The range of structural, façade, MEP elements and ensuite pods manufactured offsite is extensive. Committing to BIM, close collaboration between designers and LOR's manufacturing team, the panel geometry transferred seamlessly to the factory. Embracing paperless methods, data was reviewed and commented upon in 3D, the DfMA approach delivers more safely, 42 weeks (23%) faster with 237,099 man-hours saved compared to a traditional project – a significant productivity improvement.
Extensive staff consultation using virtual reality brought the highest level of clinical input to inform design. Dr Tim Rogerson, Consultant in Emergency Medicine: "It's been good to be involved in the design and see it come to life. At the Grange we can deliver the standard of care we've always been proud of, but now it's in this amazing clinical space." Antony Pitcher, Senior Fire Safety Advisor highlighted exemplar fire alarm cause and effect management plus best practice approach to fire stopping.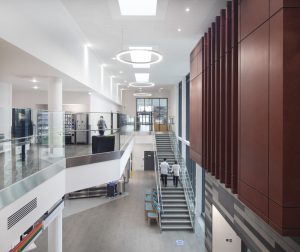 Co-location of the key parties has supported communication throughout the project.
Designed as a hospital in a parkland setting, environmental benefits include: minimising vehicle movements and waste, robustness and fire integrity of concrete, efficient MEP systems, BREEAM Excellent.
Accelerating in response to Covid-19 handing over 384 bed spaces in April 2020 – 11 months ahead of planned opening. Segregating remaining areas ensuring safety of construction personnel, we pressed on with final construction and commissioning. ABUHB requested assistance with specialist radiology and final equipment installation, we handed over fully completed on 12 November 2020 with zero defects and comfortably within budget. The hospital opened on 15 November 2020, a full four months ahead of the planned date.
Finishing, snagging and signing off 2500 rooms was captured efficiently on a Fieldview tablet, Chris Brieger, Arup, commented:
"LOR consistently delivered a high-quality product, handing over with zero defects." We implemented a well-planned soft landings strategy and continue supporting ABUHB with aftercare provided by the project delivery team. Welsh Government commended the commercial management of the project, in particular achieving certainty of cashflow, greatly supported by LOR's control through self-delivery.
LOR received an average KPI score of 9.25/10 from the Client, Cost Advisor, Project Manager and Supervisor.
"The GUH environment not only provides amazing modern facilities for patient care; but has opened so many opportunities to the Health Board in relation to recruitment of staff wanting to come and work in this state of the art building." Nicola Prygodzicz ABUHB Executive
The project has exemplar credentials, a template for future developments of this type. It has been cited in the Government's Construction Playbook. We are sharing this best practice with design teams and clients around the UK.